Customer service
Malta
News
People
Aleksej Ander – Operations manager
Aleksej work as Operations Manager in our Customer Service department. Before he started at Betsson, he worked as a teacher's assistant in Sweden. Six years ago, he switched the snow with sun and moved to Malta. Today, he's worked in the E2 Hub for five years and is still developing every day.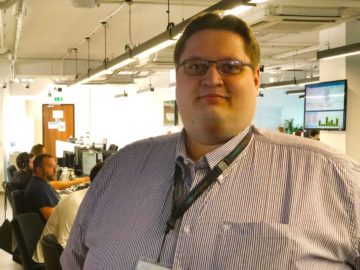 From Karlstad, Sweden to Malta
Before moving to Malta, I used to live in Karlstad where I worked as a teacher's assistant. I studied natural sciences in high school in Karlstad and then didactics and natural science at the Gävle University, but I soon realised that I wanted to try something else. The year leading up to joining Betsson group I worked for another Swedish company here in Malta, I've been on the island for six years in total. It'll be five years with Betsson now in a couple of months!
Exploring technology
I work with the Managers and Team Leaders in our department so that we keep improving and developing our procedures and the way we work. We explore how we can use technology to assist our agents in a way that makes their work easier and in turn gives our customers better service. I also manage the tech team that we have within CS. So my daily work is a mix of projects that look at the future on how we can develop our department while also making sure we deliver on our current goals. Naturally, there is also a lot of analytics and reporting as part of that.
Still learning after five years
Working for Betsson is great. The iGaming industry is highly competitive, and you have to be agile to succeed. As a company, this means that we always look for ways to improve the customer experience and the way we work. It also creates an atmosphere where people are open-minded to change and are data-driven when taking decisions. For me, this means that I am never bored at work and even after having been here for five years I still feel that I am learning things on a daily basis.
Feeling lucky
I feel that we have a great team spirit in our department and I am lucky to have the co-workers that I do. We have a lot of highly motivated and ambitious people working across the company and it helps to bring out the best of each of us.
RELATED NEWS STORIES
RELATED