Filip Antell – Gaming Campaign Coordinator
Filip has been with Betsson for less than a year and has already been promoted from Customer service to Gaming campaign coordinator. He feels like he can use the knowledge he got from his previous position in his new job.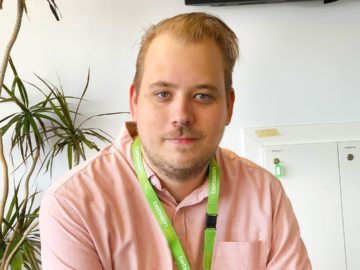 Opportunities to develop
I started my career here in November last year. I was intrigued by the market itself but also Betsson as a company which are in the forefront within the industry. I'm passionate about people and that was the reason why I wanted to come here in the first place. I have worked in big companies before, and that was the main reason that I wanted to work here at Betsson. Also the fact that the opportunities to develop within the company were a key component.
A great start in Customer Service
I had three dream jobs growing up; a chef, hockey-player or a teacher. Obviously none of those careers worked out for me, but I would like to think that some of my teacher-dreams have been incorporated in my previous role as a Team Leader. The fact that I started with customer service gave me a deeper understanding about what our customers desire, and to be able to take that knowledge within a new role was always my goal. At the beginning of August 2018, I got a new position within the company and now I am proud to call myself Gaming Campaign Coordinator in the Norwegian team.
Help from the recruiters
I have had close contact with a recruiter here at Betsson regarding new possibilities opening up within the company and specifically in campaigns. He contacted me about a new position that he thought I'd be interested in when it was out on the intranet, and then I applied for it and after interviews and tests I got it. In my new position, I have the opportunity to create campaigns and set up campaigns for the Norwegian market. It is crucial in this position to be able to be creative, efficient and detail-oriented.
Support from managers and colleagues
I got excellent training and onboarding when I first came here from my manager and my colleagues in order for me to succeed in the role. I have also gotten great support from my new manager and colleagues which gives a good base for me to learn more about the new position. I have always had open communication with my manager regarding my development and plans within the company, and they have had my back and supported me all the time.
Surprised by the incredibly high standard
Coming from one of Scandinavia's biggest company's I thought that there was no way that Betsson could have the same high standard on their Customer Service as my last company had. But I was proved wrong right away since there were so many ambitious people that really work hard for our customers. That is something that is a great motivator for me and for all employees, that we have to continue on that path in order to be even more successful.
Betsson memories
The most memorable moment that I have with Betsson was that our Scandinavian customer service team met our goals every month in my time there. I'm really proud of that achievement.
RELATED NEWS & STORIES
RELATED