Commercial
LATAM
Marketing
News
Sportsbook
Betsson becomes the Official Sponsor of Colo Colo in 2022
Chile's top team becomes another major milestone in Betsson's expansion plan in South America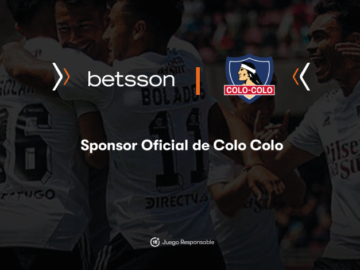 This press release is available in:
---
English

Betsson becomes the Official Sponsor of Colo Colo in 2022
Betsson Group, the global gaming operator behind the sports and entertainment website, betsson.com, announces that it has signed a one-year sponsorship agreement with Colo Colo in Chile.
Regarded as the most successful club in Chilean football and the only one that has never been relegated, Colo Colo has positioned itself as the most popular team in Chile and the top winner of the Chilean First Division with 32 titles. This sponsorship marks another step in Betsson's international brand strategy of partnering with local and international reputable sport competitions.
During 2021, Betsson Group has been very active in sponsorships in Latin America. Besides being the official regional sponsor of CONMEBOL Copa América 2021, Betsson also became the naming sponsor of Peru's Liga 1 and of the Campeonato de Ascenso in Chile. Betsson is also the betting partner of La Roja on a digital level, making it the first sponsor in this category for the Chilean National Team.
Betsson's support for South American football has now extended to Colo Colo which is the only Chilean team that has won the prestigious Copa Libertadores. This South American premier club football tournament, organised by CONMEBOL, returns this year with Colo Colo once again being one of the participating teams.
Andrea Rossi, Commercial Director for South America at Betsson Group said, "In our drive of expanding in the region, we are also partnering up with local football clubs which we can support and grow. Besides allowing us to further strengthen our brand awareness in the region, it also gives back to the clubs, allowing them to invest more in their players, staff and facilities making the sport we all love – football – more electrifying."
The global sponsorship agreement between Colo Colo and Betsson Group will cover the 2022 season with the possibility of renewal. Once Colo Colo is back on the field, the renowned team's jersey will sport Betsson's logo on the sleeve, fully respecting the historical colors of the club, adapting to black and white in its home and away version.
Likewise, at Colo Colo, President Edmundo Valladares appraised the agreement. "We are very pleased about this sponsorship. Colo Colo is once again synonymous of great and good and attracting such commercial agreements. This helps us in positioning ourselves as a very valuable institution, both from a sportive point of view and certainly also on the global arena which we, as leaders of football on a national level must have."
On his part, the Commercial Manager of Colo Colo, Samuel Pérez, said that "We are very proud to welcome one of the most important gambling operators in the world, Betsson, to our family of sponsors. We consider this agreement as a milestone and the beginning of a new stage for the club. Associating with a company with 55+ years of international experience will undoubtedly help us to improve Colo Colo's positioning at a regional and global level."
For more information visit http://www.betsson.com/cl

[back to top]
---
Spanish

Betsson se convierte en Sponsor Oficial de Colo Colo en 2022
El equipo más ganador de Chile, se convierte en otro de los grandes hitos del plan de expansión de Betsson en Sudamérica.
El Grupo Betsson, encargados de administrar a nivel global el sitio de proyecciones deportivas y entretenimiento, betsson.com, anuncia el acuerdo por un año como sponsor oficial de Colo Colo en Chile.
Reconocido como el equipo más exitoso del fútbol chileno y el único que nunca ha descendido de categoría, Colo-Colo se ha posicionado durante su historia como el equipo más popular del país y el máximo ganador del Campeonato Nacional con 32 títulos. Este auspicio registra otro paso para Betsson en la estrategia local e internacional de auspicios de prestigiosas competiciones deportivas.
Durante el 2021, el Grupo Betsson tuvo auspicios muy activos en Latinoamérica. Además de ser el Sponsor Regional de la CONMEBOL Copa América 2021, Betsson también se convirtió en el Naming Sponsor de la Liga 1 del Perú y del Campeonato de Ascenso en Chile. Betsson igualmente es el Betting Partner oficial de La Roja a nivel digital, convirtiéndose en el primer sponsor de esta categoría para la Selección Chilena de Fútbol.
El apoyo de Betsson para el fútbol sudamericano se extiende ahora junto a Colo Colo, único club chileno ganador de la prestigiosa Copa Libertadores. El torneo de clubes más importante de Sudamérica, organizado por la CONMEBOL, este año tendrá de regreso a los albos entre sus equipos participantes.
Andrea Rossi, Director Comercial para Sudamérica del Grupo Betsson manifestó que, "En nuestro camino de expansión dentro de la región, nos comenzamos a asociar con clubes locales en los que podamos apoyarnos y crecer. Junto con fortalecer nuestra marca en la región, le entregamos algo a los clubes, permitiéndoles invertir más en sus jugadores, cuerpo técnico, y facilidades que hagan de este deporte que todo amamos, el fútbol, mucho más apasionante".
El acuerdo global entre Colo Colo y Betsson Group cubrirá toda la temporada 2022 con opción de renovarse. Una vez que Colo Colo vuelva a la cancha este año, la histórica camiseta del club 'Popular' lo hará luciendo el logo de Betsson en su manga, respetando completamente los colores clásicos del club, adaptándose al blanco y negro en sus versiones de local y visitante.
Igualmente, desde Colo Colo, su presidente Edmundo Valladares valoró el acuerdo. "Estamos muy agradecidos de este nuevo sponsor. Colo Colo vuelve a ser sinónimo de grandes y buenos acuerdos comerciales y aquello nos ayuda a posicionarnos como una institución muy valiosa, desde el punto de vista deportivo y por cierto también en la gestión global, que como líderes en el fútbol chileno debemos tener".
Por su parte el Gerente Comercial del conjunto popular Samuel Pérez aseguró que "Con gran orgullo le damos la bienvenida a nuestra familia de sponsors a uno de los operadores de juego más importantes del mundo como lo es Betsson. Consideramos que este acuerdo marca un hito y el comienzo de una nueva etapa en el club. El asociarnos con una empresa con más de 55 años de experiencia internacional sin duda nos ayudará en el posicionamiento de Colo-Colo a nivel regional y mundial".
Para más información visite www.betsson.com/cl

[back to top]
---