Customer service
News
People
Rosa Heemskerk – Customer Service Team leader
Rosa has been working for Betsson since 2014 and started as CS agent for the Dutch team. After a year she was promoted to Shift leader and today she's the Team leader in the E2 Hub.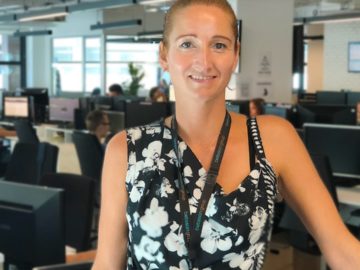 Spacious and positive
I like working in the E2 Hub because it is spacious and surrounded by a lot of daylight. I also love the atmosphere in general. There is great energy flowing on the floor, and even though it can be quite stressful sometimes, you always find a positive vibe.
Open-minded people
It is an international environment with a lot of young people. Most of the people who are moving to Malta are open-minded and wants to meet new people. It is nice to have colleagues from a lot of different cultures, but still aim for the same goals. We all want to deliver the best customer experience, and it is even more encouraging to see that we won a lot of prices and hopefully there are much more to come!
Betsson memories
In 2014 I started myself as a Customer Support Agent and I was the late shift that night. Suddenly I received a phone call and the player asked me if I could give him a birthday bonus. He hadn't played for many months, so I had to say no. I was waiting for a lot of complaints or moaning from him, but instead, he asked if he could sing a song for me. It was a really quiet evening, so I said; 'yes, why not'. His voice was actually quite good and I enjoyed the song. When he finished the song, he wanted to sing another song, but I told him that I had to get back to work. He told me that I could find his song on Youtube. Unfortunately, I forgot his name, but that memory always makes me smile.
RELATED NEWS & STORIES
RELATED