Betsafe Embarks on its First Esports Sponsorship
Betsafe has just announced that it has signed a three-year sponsorship agreement with GODSENT, a Swedish professional esports organisation. Through this agreement, Betsafe became exclusive betting partner to GODSENT as well as the Headline Sponsor for the CS:GO (Counter-Strike: Global Offensive) Division.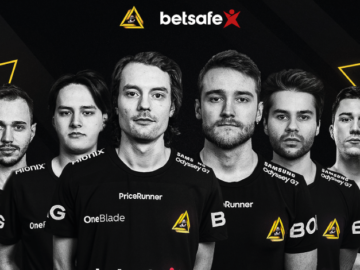 Kim Ekelund, Head of Marketing Sweden at Betsson Group said, "esports has been gaining a lot of momentum in the past couple of years and the global pandemic has further cemented its place. With all major sporting competitions being postponed during spring, more attention was directed towards esports, adding to its mainstream appeal.
"For this sponsorship we chose Betsafe, one of our most adventurous and sportive brands. Going forward, I believe there's still a lot of progress to be made in the esports arena and this sponsorship between ambitious GODSENT and Betsafe is a concrete example of our commitment towards the future of esports."
"We are very proud that Betsafe, with its long tradition of investing in extraordinary content and sponsorships, has signed this long-standing commitment with us. GODSENT is an extremely ambitious organisation and Betsafe matches that perfectly. They will become an important driver of our CS:GO division and will be a great strategic partner as we grow into a tier-one organisation," says Ludwig Sandgren, CEO of GODSENT.
This is Betsafe's first sponsorship within esports and initially, the focus will be on CS:GO, one of the most known video games which sees two teams play against each other. CS:GO is also the most-watched esports title amongst bettors in Europe. Besides brand exposure and financial support, the agreement will put great emphasis on close collaboration and social media activation, aiming to add an extra flavour to all esports fans, whether it is odds and betting or behind the scenes series. The agreement has been facilitated through a partnership between GRID Esports and GODSENT and will include data-rich and relevant content for GODSENT's upcoming matches.
---
About Betsafe
Betsafe is a leading international sports betting brand with 14 years of experience and a strong passion for sports and adventure. Betsafe is a part of Betsson Group, one of the world's largest gaming groups, at the heart of entertainment for over five decades. Betsson Group is wholly owned by Betsson AB – listed on Nasdaq Stockholm Large Cap.
About GODSENT
GODSENT is a world-class gaming organisation with top athletes, teams and content creators across ten premier esports titles. GODSENT is signified as being pioneers of sophistication and professionalism and aims to be an inspiration for all, with heavy emphasis on the physical and mental aspects of their continuous efforts to optimise performance in gaming and life. www.godsent.gg
FEATURED JOBS:
Full Stack Developer
External Platforms – Product Manager US
External Platforms – Product Manager US
External Platforms – Product Manager US
Service Desk – Technical Services Officer
System Administrator Intern
Global Initiatives – Content Project Coordinator
Senior UX Designer – Zecure Gaming
Operational Security Manager
Operational Security Manager
External Platforms – Product Manager Latin America
External Platforms – Product Manager Latin America
Managing Director Denmark
Technical Product Manager
Racebets – Frontend Software Engineer
Sportsbook – 2nd Line Software Engineer
Digital Marketing Manager – Zecure Gaming
Ice Hockey Trader
US Sports Trading Manager
Sportsbook – Product Owner (Design System – EndUser)
Sportsbook – Product Owner (Design System – EndUser)
Sportsbook – Product Owner (Design System – EndUser)
Sportsbook – Product Owner (Design System – EndUser)
AML Analyst – German Speaking
POS Coordinator
Sportsbook – Product Owner (API)
Sportsbook – Product Owner (API)
Sportsbook – Product Owner (API)
Sportsbook – Product Owner (API)
Sportsbook – Product Owner (Core/Platform)
Sportsbook – Product Owner (Reporting & Data)
Sportsbook – Product Owner (Reporting & Data)
Sportsbook – Product Owner (Reporting & Data)
Sportsbook – Product Owner (Reporting & Data)
Payments and Fraud Analyst
Software Engineer in Test Automation
Software Engineer in Test Automation
Software Engineer in Test Automation
Product Development Manager
Product Development Manager
Product Development Manager
Product Development Manager
Product Manager
Product Manager
Product Manager
Product Manager
Backend Software Engineer
Backend Software Engineer
Backend Software Engineer
Backend Software Engineer
Frontend Software Engineer
Frontend Software Engineer
Frontend Software Engineer
Frontend Software Engineer
Lead Product Analyst
LiveOps – Incident Manager
Onboarding – People Lead
Infra – Database Administrator
Sportsbook – Cloud DevOps Engineer
Infra/Platform Product Manager
Infra/Platform Product Manager
Infra/Platform Product Manager
Information Security Engineer
Information Security Engineer
Information Security Engineer
Social Media & Content Coordinator
Mobile Apps – Product Manager
Payments – Fullstack .NET Developer
Managing Director US – B2C
Account Director – US Market
Account Director
Gaming – People Lead
Sportsbook – Fullstack .NET Engineer
Sportsbook – Cloud DevOps Engineer
Sportsbook – Frontend Architect
Head of Marketing – Finland
Sportsbook – Frontend Architect
Sports Risk Monitor
Sportsbook – Senior Backend Software Engineer
Sportsbook – Product Owner (Core/Platform)
Sportsbook – Product Owner (Core/Platform)
Sportsbook – Product Owner (Core/Platform)
Sportsbook Manager – Italy
Sportsbook – Fullstack Software Engineer
Sportsbook – Fullstack Software Engineer
Sportsbook – Frontend Software Engineer
Sportsbook – Frontend Architect
Sportsbook – Frontend Architect
Sportsbook Customer Risk Analyst
Sportsbook – Cloud DevOps Engineer
Sportsbook – Cloud DevOps Engineer
Sportsbook – Backend Software Engineer
Sportsbook – Backend Software Engineer
Zecure Gaming – Frontend Developer
Senior Business Analyst
PSP Manager
Mobile Apps – Product Manager
Mobile Apps – Product Manager
Mobile Apps – Product Manager
Payment Solutions Specialist
Norwegian Speaking Customer Service Agent in Malta
Mobile Apps – Senior iOS Developer
Mobile Apps – Senior iOS Developer
Mobile Apps – Senior iOS Developer
Mobile Apps – Senior iOS Developer
Mobile Apps – Senior Android Developer
Mobile Apps – Senior Android Developer
Mobile Apps – Senior Android Developer
Mobile Apps – Senior Android Developer
Media Analyst
Marketing Analytics Manager
Managing Director Sweden
Infra – DevOps Engineer
Infra – DevOps Engineer
Infra – DevOps Engineer
Infra – Database Administrator
Infra – Database Administrator
Infra – Database Administrator
Infra – Cloud Engineer & People Lead
Infra – Cloud Engineer & People Lead
Incident Engineer
Zecure Gaming – Fullstack Developer
Zecure Gaming – Frontend Developer
Frontend Developer
External Platforms – Product Manager Latin America
Director of Branding and Creative
CRM & VIP Analyst
Business Insight Analyst
Backend .NET Developer