Betsafe officially launches in Kenya
Bet High Kenya Ltd. is pleased to announce the official launch of its online sports betting brand, Betsafe, with a demonstrable commitment to Kenyan football, responsible gaming, and an exceptional sports betting experience.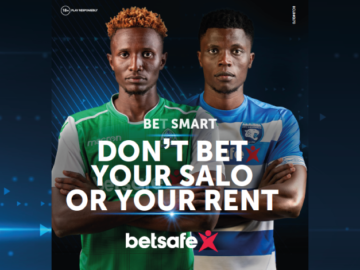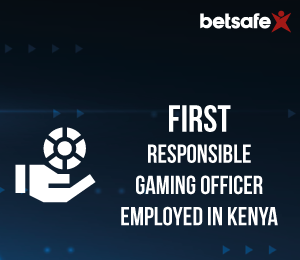 "Our Responsible gaming program is unlike any other in this market with the safety of the Kenyan sports betting fans in mind. Our online site contains unique control and safety features directly on the site. Our communication will initially be focused on responsible gaming messages and we will furthermore support "Gamehelp" an organisation that supports Kenyans with gaming problem behaviour. We are also the first gaming company to hire a Responsible Gaming Officer who will be dedicated to pursue and improve us in this area," noted Alex Kobia, Acting Managing Director of BetHigh Ltd.
"Betsafe's commitment to football was demonstrated even before our launch when we signed a three-year sponsorship deal with both Gor Mahia FC and AFC Leopards in June 2020. We are very glad and proud to be able to support two of Kenya's top-tier football clubs. With two of the largest fan bases in the country, these exciting partnerships provide Betsafe with the perfect platform to engage football fans with our unique offering. This will be followed up by investments and commitment to the progress and positive development of grassroots football and infrastructure that will literally provide the breeding grounds for Kenya's budding football stars," Alex Kobia continued.
"In terms of product, our ambition is to deliver an industry leading sportsbetting experience. Quick payouts are essential for both us and our customers and we will do our utmost to ensure that over time we are the best in the industry here. Our brand Betsafe is proven in more than +20 countries, but we have also been working hard to tailor our product to the Kenyan market. In terms of SMS betting, we have a revolutionary innovation that will allow our customers to easily make a bet through SMS without a gameID. Just SMS your bet and stake to #23333 and the bet will be placed. If the customer changes his or her mind the bet can be cancelled within a time window after the bet is placed. We will also be launching this service via Telegram. In the next couple of months, several new product features will be added and launched, such as a jackpots offerings.
"As a Company keen on responsible gaming, we wish to commend and appreciate the recent efforts made by the Kenyan Government in the last couple of years through the Regulator, Betting Control and Licensing Board, to introduce regulations to further regulate the industry and wish to confirm that we will strictly adhere and fully support the Regulator in its objective of ensuring responsible gaming is achieved in the market. We are indeed glad to be entering the market during this interesting time under this new environment that has been enabled by the Regulator."
"We also wish to highlight that it is our intention to provide jobs in the Kenyan market in this industry which is largely driven on technology, and our objective is to provide jobs to at least 150 Kenyans within the next two years which in our estimation will have the domino effect of providing livelihoods to about 1000 Kenyans."
"In essence, our ambition is to deliver a trustworthy product with safe and quick pay-outs, innovative betting services, passion, and commitment to Kenyan football, responsible gaming, and outstanding customer support," Alex Kobia concluded.
About Bet High Ltd.
Bet High Ltd is a Kenyan company licensed by the Betting Control & Licensing Board (BCLB). Bet High Ltd is in the process of entering into a joint venture agreement with BetssonGroup, which is entirely owned by Betsson AB – A Swedish company listed on Nasdaq Stockholm Large Cap. Bet High Ltd will, be trading in Kenya under the name Betsafe Ventures using the brand 'Betsafe'.
About Betsson AB & BetssonGroup
Betsson AB is a holding company that invests in and manages fast-growing companies within online gaming. It is a publicly listed company on the NASDAQ Stockholm Large Caps (BETS) and has licenses in 12 jurisdictions. It has its headquarters in Stockholm, Sweden with operational headquarters in Ta' Xbiex, Malta. Its operational subsidiaries referred to as 'Betsson Group' and are committed to responsible gaming and delivering the best customer experience in the industry.
About Betsafe
Betsafe is a leading international sports betting brand with 14 years of experience and a strong passion for sports. Owned by Betsson AB operating under Betsson Group, it is a world-leader in responsible gaming with a demonstrable commitment to provide a safe and secure environment for its customers. Betsson AB has granted Bet High Limited the right to use the name Betsafe and as indicated above, Bet High will be trading in Kenya using the brand name 'Betsafe.'