B2B
News
Product
Sportsbook
Technology
Betsson enters B2B sportsbook and platform B2B agreement with Masterpiece Gaming
Betsson has been selected as the supplier of sportsbook and iGaming platform (Player Account Management, PAM) for Masterpiece Gaming Limited as it launches as a new online gaming operator on the German market.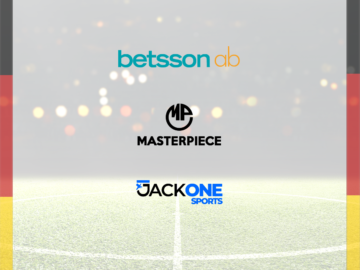 Under a multi-year agreement, Betsson will provide its in-house developed sportsbook and technology (Techsson) as well as customer support, odds, risk management and Betsson's Payment Platform (PAAS). This agreement is in line with Betsson's long-term growth strategy and confirms the company's status as a global, in-demand supplier of B2B sportsbook and platform solutions.
Masterpiece Gaming Limited, a subsidiary of the commerce & ventures segment of German media group ProSiebenSat.1, intends to offer online sports betting to the German market under the brand JackOne (jackone.de), with long-term ambitions of international expansion into other regulated markets. Masterpiece Gaming has the potential to reach a wide player audience and will run a significant media campaign in premium TV and digital environments. The sportsbook was launched on the German in time for the Euro 2020 kick-off.
The agreement is based on a performance based product fee and will run for two years, with an option of renewal.
"This deal proves that we have a competitive sportsbook product that is attractive and in demand by the market. Adding Masterpiece Gaming to our list of of B2B sportsbook solution partners confirms our ambition to be a strong supplier on the B2B sportsbook market as part of our growth strategy. We are proud that Masterpiece Gaming has chosen us as a supplier," says Pontus Lindwall, CEO Betsson AB.