Betsson Secures Impressive 10 Nominations at the EGR Marketing & Innovations Awards
Betsson has once again proven its excellence in the online gaming industry by being shortlisted for a remarkable 10 nominations for the EGR Marketing and Innovations Awards 2023.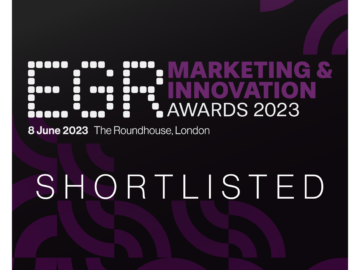 This is a testament to the company's unwavering commitment to delivering exceptional product offerings and marketing campaigns that provide an outstanding customer experience.
The EGR Marketing and Innovation Awards is a prestigious event that celebrates and recognises excellence in the online gaming industry. It is attended by the industry's leading operators, suppliers, and services providers who compete for the coveted awards in various categories. The awards are judged by an independent panel of experts who assess the nominees based on their innovation, creativity, and impact on the industry.
Betsson has been shortlisted for 10 awards across a diverse range of categories;
– Brand of the Year
– Casino Marketing Campaign
– Innovation of the Year
– Sportsbook Marketing Campaign
– Affiliate Marketing Campaign
– Best Native App
– Best Use of a Brand Ambassador
– Innovation in Casino
– Innovation in Responsible Gaming
– Innovation in Sports Betting
Being shortlisted for such a wide variety of categories is significant as it recognises the company's overall performance and its ability to deliver a consistent and engaging brand experience to its customers.
Betsson's innovative marketing campaigns have also been recognised by the EGR Marketing and Innovation Awards. The casino marketing campaign and sportsbook marketing campaign categories acknowledge Betsson's ability to create compelling and effective campaigns that engage and retain customers.
Innovation is a core value at Betsson, and the company has been shortlisted for three innovation awards – innovation of the year, innovation in casino, and innovation is sports betting. These categories recognise Betsson's ability to look at these area with an innovative perspective and see what new fresh ideas it could bring into them in order to enhance the customer experience and drive growth.
Betsson's commitment to responsible gaming has also been acknowledged by the EGR Marketing and Innovation Awards, with the company being shortlisted for the innovation in responsible gaming category. This category recognises the company's efforts to promote responsible gaming practices and provide support and resources to customers who may be at risk of developing problem gaming behaviour.
In conclusion, being shortlisted for 10 awards at the EGR Marketing and Innovation Awards is a tremendous achievement for Betsson. It is a testament to the company's commitment to innovation, excellence, and responsible gaming and reflects the extortionary talent of its people who continuously strive for new heights.
We eagerly await the awards ceremony on 8th June in London and wish all shortlisted organisations the best of luck.