Awards
Customer service
News
Betsson Group is a Finalist at the European Contact Centre & Customer Service Awards 2022
The finalists for the European Contact Centre & Customer Service Awards 2022 have been revealed and Betsson Group has announced that it is one of the 8 finalists in the 'Best Large Customer Service Team' category.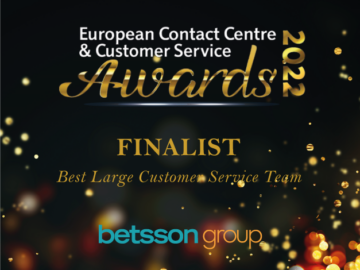 The award-winning European Contact Centre & Customer Service Awards (ECCCSAs) recognises organisations across Europe that are leading the way in delivering exceptional service to customers.
These awards are for contact centres and customer services teams in all industries. Indeed, some of the finalists include well-known brands such as Adidas, Sony, McDonalds, Vodafone, Mercedes Benz, DHL, HSBC, Panasonic, Revolut, and Swedbank.
The other finalists in the 'Best Large Customer Service Team' with Betsson Group are Aegon UK, CitySprint, Colt Technology Services, M&S, Saga, Southeastern & Teleperformance UK, and Valoris Center.
Speaking about being a finalist at these prestigious awards, Melissa Zalbeigi, Director of Customer Service at Betsson Group, said, "I am overjoyed and truly honoured that Betsson Group's Customer Service team has managed to be one of the finalists for this year's European Contact Centre & Customer Service Awards, one of the largest running awards programmes in the industry. Being a part of this event and being recognised as one of the first iGaming companies to be a finalist is something that all of us at Betsson take great pride in.
"Each and every role with our team, every metric, every intra department cooperation and ever process was specifically set-up with the customer in mind. We fine-tuned each and every step of our operations with the benefit of our players in mind as the team's main objective is to be the Voice of the Customer."
When the finalists were revealed, the organising committee of the ECCCSAs said that they had a record-breaking year with 34% more organisations from 33 different European countries participating this year. "The judges had a hard time identifying nominations to go through to the next stage of the process. So, congratulations to all the Finalists, and good luck in the next round."
The next round is the final one where the winners will be announced at an exclusive awards evening in London on Tuesday, 22nd November 2022.