Awards
Customer service
Italy
Marketing
News
StarCasinò Wins 2 Awards at EGR Italy Awards 2022
The loved Italian casino and sports betting brand, part of Betsson Group, was awarded the Best Customer Services Operator of the Year Award and the Best Marketing Campaign of the Year Award!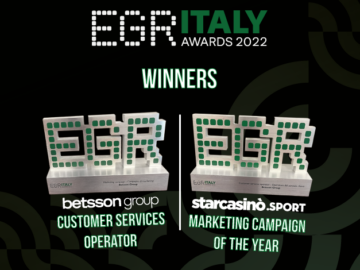 Milano, 21 October 2022 – StarCasinò and Betsson Group have won two prestigious categories at the EGR Italy Awards 2022, the most awaited event in the online gaming world, held last night in Rome. Thanks to the strategies implemented throughout the year, StarCasinò once again confirms its leadership in the industry when it comes to marketing and customer service.
The excellent result achieved by Betsson Group's Italian brand is the result of the continuous work to improve the platform and the offering and also due to its vision of customer entertainment that is based on three solid pillars: support, attention to detail in the product, and experiences that always put the customer and their needs at the centre. Through a rigorous and transparent evaluation process carried out by the EGR Awards jury, StarCasinò received recognition for:
– Marketing campaign: the award was won by the brand that engaged in smart, innovative, and creative marketing campaigns. During the past year, StarCasinò Sport launched the new marketing campaign "The new way to live sports" which together with a multitude of key sponsorships of several football clubs had the main goal of putting fans at the centre of everything as it engages them in a way that bring them even closer to their favourite team.
– Customer services operator: this award recognises the operator that best demonstrated that it truly has the customer at the heart of its business. When looking at all the shortlisted operators, judges also looked at staff engagement in the company's customer satisfaction strategy, training and development, KPIs and their measurement, as well as the operator's competitive advantage and impact on retention. Customer service is key for Betsson Group and StarCasinò and is one of the USPs that sets the brand apart in the market.
"Receiving these awards is an important recognition of our daily work and a source of great pride. We continue our path of growth knowing that the direction we have taken will give us great satisfaction. I want to thank the entire Team for their commitment, passion, and professionalism in achieving our goals," said Stefano Tino, Managing Director of StarCasinò.