Malta
News
People
Sportsbook
"I live and breathe basketball"
Sophia Blana is a Basketball Manager with Sportsbook. Read her story about her passion for the sport.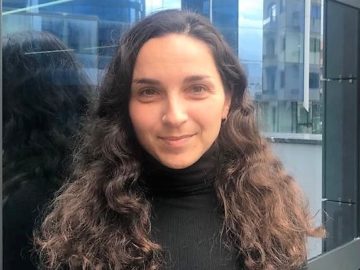 Born in a family where basketball played a huge part, Sophia Blana more or less has it in her blood.
"We used to go to basketball courts together, my brother played and we would go watch his games. It is our family sport," she says and continues:
"Basketball has always been a huge part of my life, and this passion is what helped me become good at it."
Challenging and exciting
It only seems fitting that Sophia is a Basketball Manager, making sure Betsson has a competitive basketball offer.
"The competition is fierce and we want to provide the very best customer experience," she states.
Passion and dedication
When asked about what it's like to work in Sportsbook, Sophia says:
"It's nice working with people who have a common interest – our love for sports – and get to work with it every day."
"My strengths are my passion and dedication. I always strive to deliver great results"
Sophia started out as a CS agent for another gaming company, and moved to yet another to learn trading.
"I always wanted to work in Sportsbook," she says.
After two years with live trading of all sports with the other gaming company, she had enough experience to start at Betsson Group as a Basketball Trader. As a Basketball Trader, Sophia was setting odds and handling risk management. In November 2018, she became a Basketball Manager, leading a team of six Traders.
"The fact that Betsson Group has given me the opportunity to grow and further develop my skills within the field I love is amazing."
Top league
The Sportsbook team has come a long way in the last years.
"Since I started at Betsson six years ago, the Sportsbook department has grown so much," Sophia says.
A basketball team was created shortly after Sophia joined, and she soon became an expert in the NBA, the National Basketball Association, which is the men's professional basketball league in North America.
"This is the biggest league we have within basketball," Sophia says.
Sophia says that the Sportsbook team has become much more international, and that she likes meeting people from different countries and cultures.
"Everything is about people, if we support and respect each other we can achieve great results," she states.
Follow your heart
What advice do Sophia have for others who love sports like she does?
"Follow your heart and follow your passion," she says.
"If you love sports, go ahead and do something sports related. If there is passion, in time you will become great at it."
"I love my job. It's my second home," she says with a smile.