Malta
News
People
Technology
An ideal role in a homely place
Mahendra is our Service Management Tool Architect, who recently joined us and is now paving the way in Internal IT.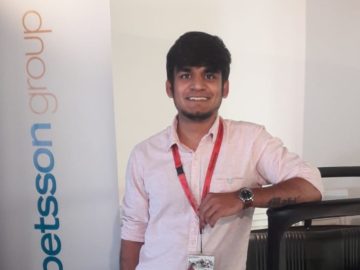 We caught up with Mahendra to find out a bit about him and how he is finding life at Betsson Group so far.
"I come from a small district in India, called Mandsaur, located in the North-West which is almost identical to Malta. I studied Engineering and then moved to Mumbai for work and literally fell in love with the city. I then moved to Pune in India, but my dream was to move to Europe at some point in my career," Mahendra says.
Malta is a long way away from India! How did you hear about us and the specific post you took on?
"Sometime in July, I saw the role advertised , I applied and I got the good news. I packed my belongings and here I am.
Betsson Group is the place where not only do I get to accomplish my work but it's my second home. From the first day of joining I have gotten full support from my manager, the team and the rest of Internal IT, who I consider family.
Malta is quite different from India but I was ready for the change so I'm liking it so far. One common thing that Malta and my hometown both have is the size. Living on a small island reminds me of home and I love it! It's very homely here. I recently got married, and my wife will be joining me here soon!"
What about the technology you are working on here?
"I have been working with the same technology for the last four years with different people, regions, cross functional groups, companies and roles. I am finding my role here a healthy challenge as it involves all departments in the Group, which is exciting," Mahendra says and concludes:
"I always try to make a better and simpler user experience, so this role is ideal and I love working in this kind of environment, here at Betsson Group that gives me all the challenges I need!"