La Roja presents Betsson as its first official betting partner
The sports betting and online entertainment site becomes the new Chilean National Team sponsor heading to the FIFA World Cup Qatar 2022.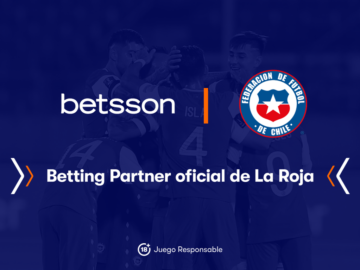 Santiago, March 2021 – Betsson, the sports and online entertainment site, signed an agreement to become La Roja's first betting partner. This sponsorship entails the appearance of Betsson in all digital environments involving 'El Equipo de Todos', as well as official games, conferences, training sessions and other official channels.
The alliance with the Chilean National Team will last until December of 2022 which means that Betsson will accompany La Roja throughout its qualifying journey for the FIFA World Cup Qatar 2022. For Betsson, the Chilean national team represents an outstanding brand not only on a sports level but also as a strong social element.
Therefore, this new sponsorship aims to increase the scope of both brands and foster a closer connection between the fans and Betsson, generating growth opportunities for both La Roja and Betsson.
For the Chilean National Team, Betsson is considered a prominent international brand positioned as one of the leaders in terms of online entertainment – a trend that has been increasing in the country.
Besides sponsoring La Roja, Betsson has recently signed up as brand ambassador Iván Zamorano – the legendary captain and fourth historic top scorer for La Roja.
"The passion that the Chileans have for football is one of the strongest we've seen in Latin America. Through this partnership with the Chile National Football Team we want to add value to the football fans in the country, support the National Team in Copa America and be part of the exciting World Cup journey and share the hope to see Chile qualify for their tenth appearance in the World Cup tournament," said Andrea Rossi, Commercial Director Latin America at Betsson.
Meanwhile, Javier Villanueva, General Manager of Mediapro Chile – the company that holds the commercial rights of the Chilean National Team – pointed out that "our focus is to incorporate innovation into La Roja's sports sponsorship and what better way to do it than with a global brand like Betsson. Today we have a differentiating and global strategy that Mediapro proposed when it licensed the commercial rights of the Chilean National Team."
Similarly, Sebastián Iturriaga, Marketing Manager at the Chilean Football Federation, stated that "we are very happy to have Betsson as the new digital sponsor of La Roja. It is a company with a great presence in sports worldwide and with significant growth in recent years. Undoubtedly this alliance will be beneficial for both parties."
For more information visit, Betsson.com/cl