Betsson Group reaches 75,000 followers on LinkedIn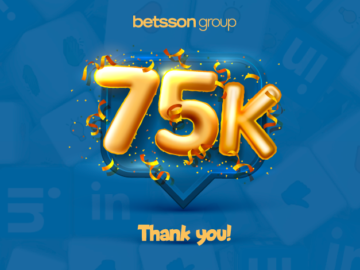 What a milestone! We have recently reached 75,000 followers on our LinkedIn page.
We'd like to thank everyone who 'Follow', 'Like', 'Share', and 'Comment' on our content – we truly appreciate your support and enjoy engaging with you!
If you don't already follow Betsson Group on LinkedIn, here are five reasons why you should follow us:
Be in-the-know
Be the first to find out what we are up to at Betsson Group – whether it's an expansion into a new market or the granting of a new license, the birth of a new brand, the launch of a new innovative product feature, latest award wins, or thought leadership pieces. We take pride in everything that is going on within the Group and keep our LinkedIn page constantly updated.
Thought Leaders
Our Betssonites regularly share their thoughts through articles, interviews, videos, and more. We post the best ones on LinkedIn, follow us and you won't miss anything!
Video Features
We were the first gaming company to launch our very own LinkedIn Live video episodes whereby every fortnight we interview a key person from within Betsson. We have also just launched the 'A Day in the Life of…" video features where we will be catching up with several teams in different offices to check what they're up to.
Employee Engagement and Company Culture
We're very proud of the company culture at Betsson Group and we use LinkedIn to talk about it. Likewise, we really value the Betsson Employee Experience and we regularly publish posts on the amazing activities organised by our HR teams all over the world – this is just a fraction of the activities that gel each and every one of us together in the true #OneBetsson spirit. We also highlight some of the open roles we have at the moment, we celebrate work anniversaries of some of our Betssonites, and much more. Follow us to keep up to date with our current vacancies.
Local Community Engagement
At Betsson Group we believe in leaving a positive impact in the communities in which we operate. We use our page to communicate about some of the initiatives we hold in the different countries – not to brag, but to inspire individuals and other organisations to do the same, or even better. Be the first to see this content by following us on LinkedIn!
We hope to see you over on LinkedIn soon!