Betsson Group Sponsors the 5th Malta Social Impact Awards
For the fourth consecutive year, Betsson Group is sponsoring the Malta Social Impact Awards which provide the required coaching, mentoring and funding for initiatives that address pressing social issues in Malta.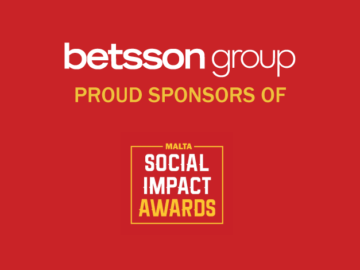 2021 is a special year for the Malta Social Impact Awards as for the first time ever, they will be aired on national television. The show, presented by Xandru Grech, will be in the format of an exciting competition-based reality show and will allow all of Malta the chance to be part of the impact from the comfort and safety of their own home. The show will feature the five finalists' pitches in front of the MSIA judges (including Betsson Group's CEO, Jesper Svensson), which include their inspirational stories, their impact, and how they will change lives with the funds they win.
The show will be aired on 27th March at 20.50hrs on Malta's national television, TVM.
Over the years, MSIA has awarded over €320,000 in grants to 13 organisations and over €100,000 in non-financial support and pro-bono services to over 50 participants who have been part of the mentoring programme with TAKEOFF Business Incubator at the University of Malta and Vistage. These initiatives have had an impact on the lives of thousands of individuals in Malta, from children to the elderly, migrants and disadvantaged groups, as well as people suffering from mental or physical health issues.
In 2020, the Malta Social Impact Awards continued supporting local initiatives and 10 social initiatives went through a mentoring and support phase. In February 2021, the MSIA judges selected 5 finalists who are now in the running to win grants and non-financial support to develop their sustainable initiative that changes lives and have a positive social impact in Malta and Gozo. Betsson Group is one of the main sponsors for 2021.
MSIA 5th EDITION FINALISTS
Adopt a Grandparent by Missio Malta and Newsbook
Adopt a Grandparent is an initiative aimed at pairing senior citizens within our community with caring individuals who touch base regularly to help the elderly feel loved and help combat loneliness and solitude.
Charity Shops for the Community by Inspire
This initiative seeks to work on its sustainability by professionally organising its retail operations and expanding INSPIRE Charity Shops around the island and creating a more dignified way of shopping to help people at risk of poverty who may not be able to buy essential items such as clothing, books, and household items from mainstream shops.
Interpreter Unit by TAMA
The aim of the Interpreter Unit is to reform the current system addressing issues related to the availability of trained interpreters in Malta, by having a responsive, professional, and organised response team to combat migrants being isolated from the community and ensure all migrants have access to services and benefits.
Project Stop by Cross Cultural International Foundation
'Project Stop' aims to reach out and empower vulnerable groups in our community on the dangers of human trafficking, as well as equipping them to detect it and to stay safe while following their aspirations and dreams.
Thrive Education and Wellness Farm by Thrive
This wellness gardening programme is aimed at improving mental and physical health – whilst enjoying nature and its therapeutic benefits. It aims to create an environment where individuals feel supported to connect to themselves, each other, and nature.