Betsson Group and Big Bola announce partnership for online gaming operations in Mexico
Betsson Group, the online gaming operator, and Big Bola Casinos have agreed to partner together for online gaming operations in Mexico.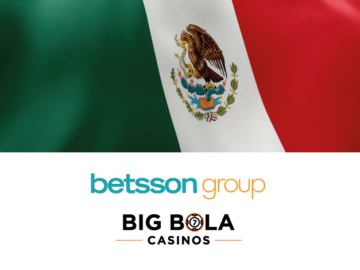 The partners plan to launch the gaming operator's flagship brand, Betsson, by the end of the year. Upon launch, Betsson Mexico will offer casino, live casino, and localised sportsbook with a wide range of sports and markets and US ways of betting, such as money line, parley, and teaser bets.
Jesper Svensson, CEO of Betsson operations, said, "This is yet another expansion into the LatAm region which we see so much potential in. As we have done in Brazil, Colombia, and the Province of Buenos Aires in Argentina, we are teaming up with a local partner that lives and breathes the local culture.
"We are really excited to start this collaboration with Big Bola as we believe they are well suited to help us understand the market better and ensure that our offering not only fits the Mexican culture but also earns the public's trust. Our vision is to provide the best customer experience in the industry and I'm confident that we will manage to replicate this success in Mexico too," concluded Jesper Svensson.
Emilio Quiros, Director of Operations for Big Bola, said, "We are happy that Betsson Group has chosen to partner with us for their operations in Mexico. We believe that our market expertise and their knowledge and experience about online gaming will result in an outstanding product for Mexico."
Both companies are actively involved in supporting the communities in which they operate. Betsson Group uses OneBetsson.com as a vehicle for local community engagements in multiple countries. During the current circumstances, Betsson has supported COVID-19 related initiatives in Malta, Sweden, Estonia, Georgia, and Hungary. Big Bola also runs Fundación Big Bola which is driven by values ​​such as altruism, commitment, honesty, solidarity, justice, and generosity and supports children and youths in Mexico. It also collaborates with other public and private organisations to support healthcare and crisis relief in Mexico.
About Betsson Group
With 20 brands, including Betsafe.com, Betsson.com, NordicBet.com, and CasinoEuro, offering Sportsbook, Casino, and other games, Betsson Group is one of the world's largest gaming groups, at the heart of entertainment since 1963. The company's vision is to provide the best customer experience in the industry – listening to, and learning from, its customers, and then exceeding their expectations. Betsson Group is wholly owned by Betsson AB – listed on Nasdaq Stockholm Large Cap.
About Big Bola Casinos
Big Bola Casinos employs 1,800 staff and operates 20 casino centres throughout Mexico. Since their initial launch in 1995, Big Bola Casinos has become reference for the land-based casino industry in México. Big Bola´s venues offer a wide variety of slot games, sports betting, bingo halls and live table games which strive to maintain a fun, entertaining and exciting experience. Big Bola is a socially responsible company and besides promoting responsible gaming at its casinos, it also supports different causes through the BigBola Foundation. More info: http://www.bigbola.com
---
Betsson Group, el operador de juegos en línea y Big Bola Casinos acordaron asociarse para las operaciones de juegos en línea en México.
Los socios planean lanzar la marca insignia del operador de juegos, Betsson, para fin de año. Tras su lanzamiento, Betsson México ofrecerá sus productos de casino, casino en vivo y apuestas deportivas localizadas con una amplia gama de deportes y mercados, incluyendo una gran oferta de deportes americanos, como apuestas de moneyline, parley y teasers.
Jesper Svensson, CEO de Betsson, dijo: "Esta es otra expansión más en la región de Latinoamérica en la que vemos mucho potencial. Como lo hemos hecho en Brasil, Colombia y la provincia de Buenos Aires en Argentina, nos estamos asociando con un partner local que vive y respira la cultura mexicana".
"Estamos muy emocionados de comenzar esta colaboración con Big Bola, ya que creemos que son adecuados para ayudarnos a comprender mejor el mercado y garantizar que nuestra oferta no solo se ajuste a la cultura mexicana, sino que también se gane la confianza del público. Nuestra visión es brindar la mejor experiencia al cliente en la industria y estoy seguro de que lograremos replicar este éxito también en México," concluyó Jesper Svensson.
Emilio Quiros, director de Operaciones de Big Bola, dijo: "Estamos contentos de que Betsson Group haya elegido asociarse con nosotros para sus operaciones en México. Creemos que nuestra experiencia en el mercado y su conocimiento y experiencia sobre juegos en línea resultarán en un producto sobresaliente para México".
Ambas empresas participan activamente en el apoyo a las comunidades donde operan. Betsson Group utiliza OneBetsson.com como vehículo para la participación de la comunidad local en varios países. En las circunstancias actuales, Betsson ha apoyado iniciativas relacionadas con COVID-19 en Malta, Suecia, Estonia, Georgia y Hungría. Big Bola también dirige la Fundación Big Bola, impulsada por valores como el altruismo, el compromiso, la honestidad, la solidaridad, la justicia y la generosidad, y apoya a los niños y jóvenes en México. También colabora con otras organizaciones públicas y privadas para brindar apoyo en atención médica y alivio de crisis en México.
Acerca de Betsson Group
Con 20 marcas, incluidas Betsafe.com, Betsson.com, NordicBet.com y CasinoEuro, que ofrecen apuestas deportivas, casino y otros juegos, Betsson Group es uno de los grupos de juegos más grandes del mundo, en el corazón del entretenimiento desde 1963. La visión de la compañía es brindar la mejor experiencia al cliente en la industria, escuchar y aprender de sus clientes y luego superar sus expectativas. Betsson Group es propiedad total de Betsson AB– que cotiza en Nasdaq Stockholm Large Cap.
Acerca de Big Bola Casinos
Big Bola Casinos emplea a 1.800 personas y opera 20 centros de casino en todo México. Desde su lanzamiento inicial en 1995, Big Bola Casinos se ha convertido en referencia para la industria de los casinos físicos en México. Los sitios de Big Bola ofrecen una amplia variedad de juegos de tragamonedas, apuestas deportivas, salas de bingo y juegos de mesa en vivo que se esfuerzan por mantener una experiencia divertida, entretenida y emocionante. Big Bola es una empresa socialmente responsable y además de promover el juego responsable en sus casinos, también apoya diferentes causas a través de la Fundación BigBola. Más información: http://www.bigbola.com