Commerical
Malta
Marketing
People
SEO in iGaming summed up: fast and always changing
Caroline Broman is SEO Marketing Owner. "SEO to me is the heart of all functions involved in creating a website," she says. Read on to find out more about Caroline's SEO philosophy and what her day at Betsson looks like.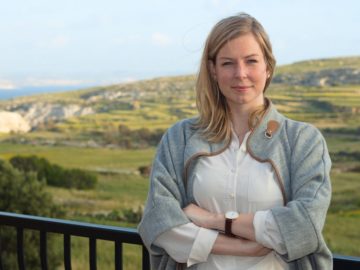 Where it all started
"My interest for websites and content started around 15+ years ago. The exciting possibility of creating my own product online together with a curiosity to learn and connect with like minded people drew me to the world of creating websites," Caroline says.
"While websites and digital marketing was an interest to me, the world of iGaming and its customers was a totally new dimension. The thought of iGaming hadn't really crossed my mind until I was walking outside Betsson's building one late summer evening. A few months later my journey at Betsson started in the front line as a customer support agent and after a few months turned into a team leader. This is an experience that I will always treasure – it is where I learned what our customers actually wanted, needed and talked about."
"With a new found curiosity to work in marketing in iGaming, the SEO team reached out to me to be part of their team – to me it was only a natural progression to get back to my roots and share my passion in marketing. After I was lucky enough to join the amazing SEO team, I have had the opportunity to challenge myself through taking on different responsibilities from a specialist, to a manager and as of latest as a Marketing Owner within SEO," Caroline explains.
What is SEO for you and why do you have a passion for it?
"SEO to me is the heart of all functions involved in creating a website," Caroline states.
"Why I say this is because successful SEO will not work without proper involvement from the start of the product (and website) to the marketing of the website. But most importantly it is about understanding the customer and meet their needs by creating the best search experience possible for them. To me SEO is more than a job or a work title – it is a quest to constantly stay hungry and curious about the online world. I also really like the tight knit SEO community which is felt online, during conferences and also within our own Betsson SEO team."
Working with SEO in iGaming
"I would sum up working with SEO in iGaming with two words: fast and always changing. Not only does Google constantly change but working in iGaming on large brands in different markets means a constant change both from a market perspective and also from a product perspective. This type of change is both challenging but also very exciting. For a curious minded person, who is organized and can adapt to change – and who does not like mundane tasks – this could be the right field," Caroline says.
A day in the life of Caroline
"Every morning I start by catching up with my inspiring peers in the SEO team. After that I jump into my emails and at the same time spend a few minutes catching up and sharing some SEO news with the team, while having my first coffee," she explains.
"The day depends on the projects currently being worked on and the date in quarter, but usually involves looking at rankings, checking site traffic, spotting opportunities, reporting issues, coaching, setting processes, strategizing and planning SEO work for our three big brands. Communication and meetings with stakeholders are an important part of my role as well."
What keeps you at Betsson?
"As I am soon celebrating almost 5 years at Betsson, various reasons keep me here, such as the opportunities offered by the company, the challenges that comes with the job and the great colleagues."
"I feel especially happy about the incredible SEO team that we have. I am so lucky to be working with such talented people that all come from diverse backgrounds and with different skills within the marketing and technical fields – all with the same passion and interest to improve our search experience," Caroline concludes.