Betsson becomes a main sponsor of the Chile Open 2023 Tennis Championship
The leading global sports and casino online platform has announced that it is now one of the main sponsors of the most important tennis championship in Chile, which is set to take place during the last week of February in Santiago.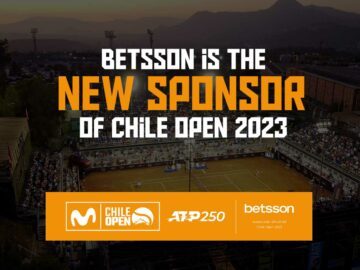 This press release is available in:
Press photos at the bottom of the page.
---
English

Betsson becomes a main sponsor of the Chile Open 2023 Tennis Championship
Santiago, February 2023.- Betsson, the leading online gaming company, is proud to announce its sponsorship of the Chile Open 2023, an ATP Tour 250 event scheduled to take place from February 27th to March 5th at the prestigious Club Deportivo Universidad Católica in Santiago. This strategic alliance reflects Betsson's unwavering commitment to supporting sports and fostering growth in the Chilean market as it continues to expand its presence in the region.
"We are delighted to announce our partnership with the Chile Open 2023, underscoring our ongoing commitment to promoting sports and supporting sustainable growth in Chile. As the main sponsor of both the first division of Chilean soccer, Campeonato Betsson, and the second division, Ascenso Betsson, we are proud to be able to expand our investments in the national sport and strengthen our ties with the local community. This new alliance with the Chile Open represents another important step in our journey to becoming the leading gaming company in the region," said Andrea Rossi, Commercial Director LatAm at Betsson Group.
"As Betsson continues to expand its presence in the LatAm region, we recognise the powerful role that sports play in bringing communities together and creating a sense of shared passion and pride. Our investment in the Chile Open 2023 reflects our strategic commitment to supporting sustainable growth in Chile and promoting the development of local talent on the global stage. Through partnerships like this, Betsson is proud to play a key role in shaping the future of sports in the region and helping to build a brighter, more connected world," said Ronni Hartvig, Chief Commercial Officer at Betsson Group.
The ATP Tour 250 Chile Open has been a resounding success for the past three years. The 2020 edition of the tournament saw a return to Santiago after a long hiatus and welcomed some 35,000 fans during the event week. In 2021, despite the challenging circumstances presented by the pandemic, the tournament was held with limited capacity, and Cristián Garín emerged as the winner of the trophy. In 2022, with the return of fans to the San Carlos de Apoquindo court, the tournament broke its previous records with over 50,000 spectators present. For the upcoming 2023 edition, the organisers are optimistic about achieving a similar level of turnout and delivering an exceptional experience for fans and players alike.
The highly anticipated Chile Open 2023 will feature an impressive lineup of top players from around the world. Among the players confirmed for the tournament are Diego Schwartzman (ranked 32nd) from Argentina, rising Italian star Lorenzo Musetti (ranked 20th), and his compatriot Fabio Fognini (ranked 66th). Local favourite Cristian Garín (ranked 100th) will also be competing, alongside Austrian player Dominic Thiem (ranked 99th), both of which have been granted a wildcard invitation to the tournament. The third wildcard is expected to go to Nicolás Jarry (ranked 136th) or to Alejandro Tabilo (ranked 148th). Both these players also have the opportunity to earn a spot in the tournament through the qualifying stage, which offers a chance to enter to the main draw.
ATP Tour 250 Chile Open calendar and tickets
The Chile Open 2023 will kick off with the qualifying rounds on Saturday 25th and Sunday 26th February. The main tournament will officially commence on Monday 27th and Tuesday 28th February, with the first-round matches. The round of 16 will be played on Wednesday 1st and Thursday 2nd March, while the quarterfinals will take place on Friday 3rd March. The semi finals are scheduled for Saturday 4th March, and the final match will be held on Sunday 5th March.
Tickets for the tournament are available for purchase online through Punto Ticket.
In addition to the thrilling on-court action, Betsson's content digital partner in Chile, Septimo Game, will provide in-depth coverage of the tournament. Fans can look forward to two daily live streams, featuring expert analysis from Fernando González, former tennis player and Betsson ambassador, and Javier Farana, ESPN tennis commentator. The live broadcasts will be available on Betsson's Instagram account as well as on Septimo Game's social media platforms, YouTube and Instagram. All broadcasting will be conducted from an interactive studio located in the fan zone.

[back to top]
---
Spanish
Betsson es el nuevo auspiciador del Chile Open 2023
El sitio líder global en juegos deportivos y casino en línea fue anunciado como uno de los principales sponsors el torneo de tenis más importante en Chile, el cual se disputará desde la última semana de febrero.
Santiago, febrero de 2023.- Betsson, la compañía líder de juego online, anuncia el auspicio del Chile Open 2023, el evento del calendario ATP 250 que está pronto a disputarse desde el 27 de febrero hasta el 5 de marzo en el prestigioso Court del Club Deportivo Universidad Católica en Santiago. Esta alianza estratégica refleja el inquebrantable compromiso de Betsson con el deporte, fomentando el mercado en Chile mientras se extiende su presencia en la región.
"Estamos encantados de anunciar nuestra asociación con el Chile Open 2023, remarcando nuestro constante compromiso con la promoción del deporte y el apoyo al crecimiento sostenible en Chile. Como patrocinador principal tanto de la primera división del fútbol chileno, Campeonato Betsson, como de la segunda división, Ascenso Betsson, estamos orgullosos de poder ampliar nuestras inversiones en el deporte nacional y fortalecer nuestros lazos con la comunidad local. Esta nueva alianza con el Chile Open representa otro paso importante en nuestro camino para convertirnos en la empresa líder de juego online en la región", dijo Andrea Rossi, Director Comercial SEU & LatAm en Betsson Group.
"Así como Betsson continúa expandiendo su presencia en Latinoamérica, reconocemos el poderoso papel que tiene el deporte para unir a la comunidades y crear un sentido de pasión y orgullo común. Nuestra inversión en el Chile Open 2023 refleja nuestro apoyo estratégico de apoyar el crecimiento sostenible en Chile y promover el interés y desarrolló del deporte local en el escenario global" comenta Ronni Hartvig, Chief Commercial Officer en Betsson Group.
El torneo correspondiente al Tour 250 del ATP ha sido un gran éxito en sus últimos 3 años. La edición 2020 que vio a la competencia volver a Santiago luego de una prolongada ausencia, recibió cerca de 35 mil fanáticos. En 2021, a pesar de las desafiantes condiciones presentadas por la pandemia, el torneo pudo realizarse con una capacidad limitada para la victoria de Cristian Garín. En 2022, con el retorno de los espectadores a San Carlos de Apoquindo, el torneo rompió su anterior récord con más de 50 mil espectadores presentes en total. Mientras que, para la pronta edición de 2023, la organización espera lograr un nivel de convocatoria similar y entregar una experiencia excepcional tanto a los hinchas como a los jugadores.
El altamente anticipado Chile Open 2023 presentará un impresionante cartel de jugadores destacados de alrededor del mundo. Entre los jugadores confirmados están Diego Schwartzman (ranqueado 32°) de Argentina, la prometedora estrella italiana Lorenzo Musetti (20°) y su compatriota Fabio Fognini (66°). El favorito local, Cristian Garín (100°) estará compitiendo, junto con el jugador austriaco Dominic Thiem (99°), ambos han asegurado su invitación por Wild Card al torneo. A la espera de definir la última invitación que podría ser para Nicolás Jarry (136°) o Alejandro Tabilo (148°), quienes de igual forma aún tienen la opción de entrar al cuadro principal por medio de la Qualy.
Calendario y entradas del ATP Tour 250 Chile Open
El Chile Open dará inicio con las rondas de Qualy el sábado 25 y domingo 26 de febrero. El cuadro principal comenzará oficialmente el lunes 27 y martes 28 con los partidos de primera ronda. Los octavos de final se jugarán entre el miércoles 1 y jueves 2 de marzo, mientras que los cuartos de final serán el viernes 3. Las semifinales están calendarizadas para el sábado 4 de marzo, dejando el partido final para el domingo 5 de marzo.
Los tickets para el torneo están disponibles para su compra en Punto Ticket.
Además de la acción en la cancha, el partner de contenido de Betsson en Chile, Séptimo Game, realizará una gran cobertura del torneo. Los fanáticos podrán ver transmisiones diarias en vivo desde el complejo, presentando el análisis de expertos de Fernando González, ex jugador de tenis, máximo ganador histórico de Chile Open y embajador de de Betsson, junto a Javier Frana, ex comentarista principal de ESPN para Latinoamérica. Los lives estarán disponibles en las redes sociales de Betsson y 7mo Game y serán realizados en directo desde el Fan Zone.

[back to top]
---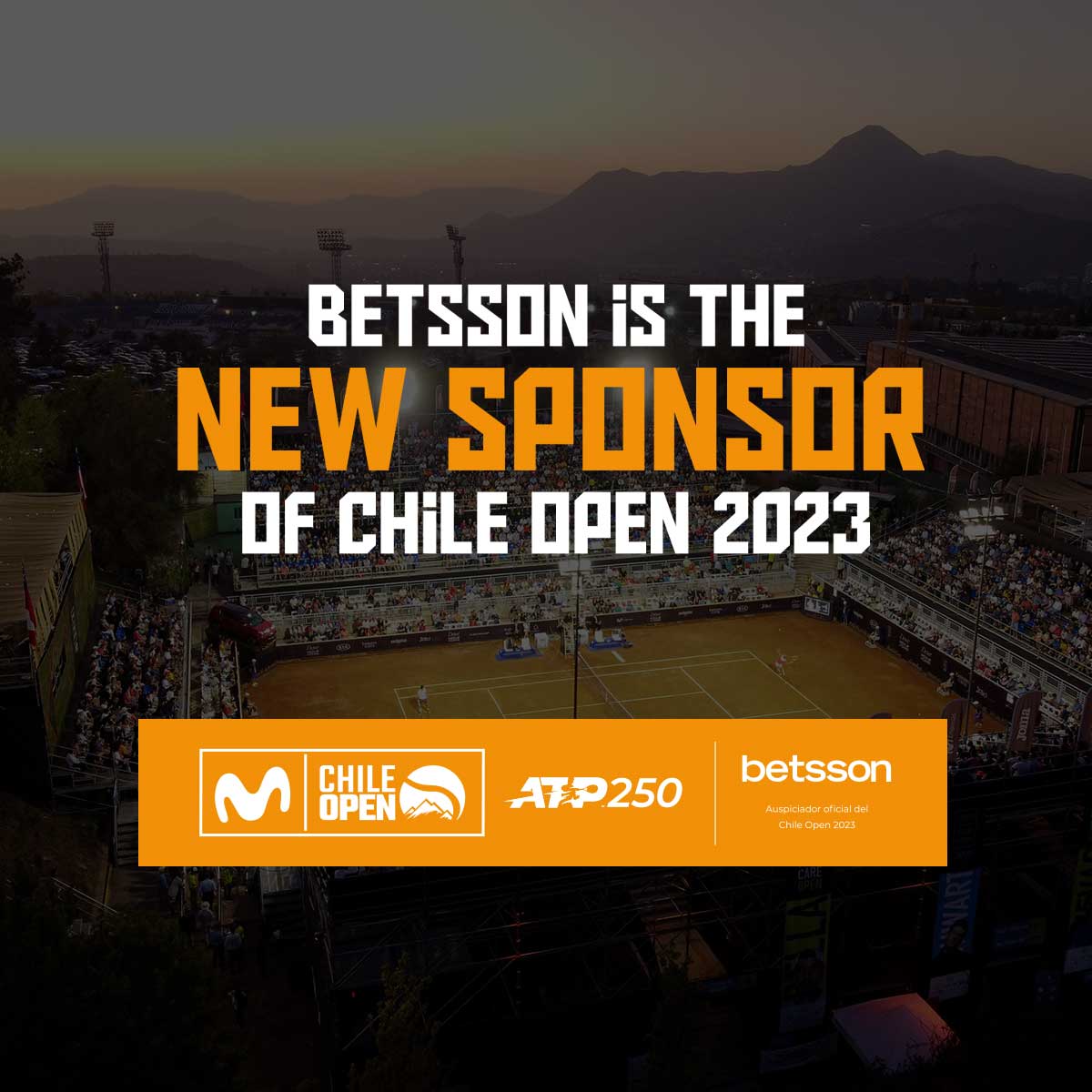 1200 x 1200px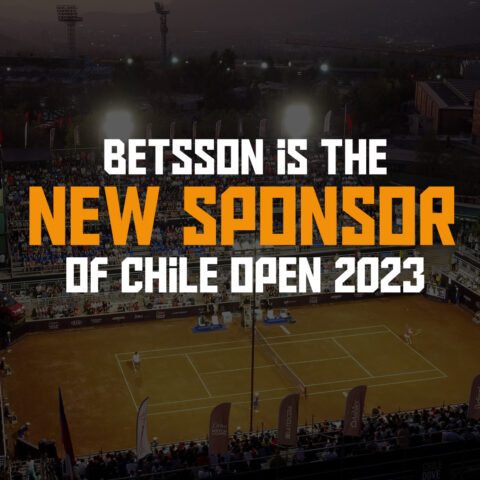 1080 x 1920px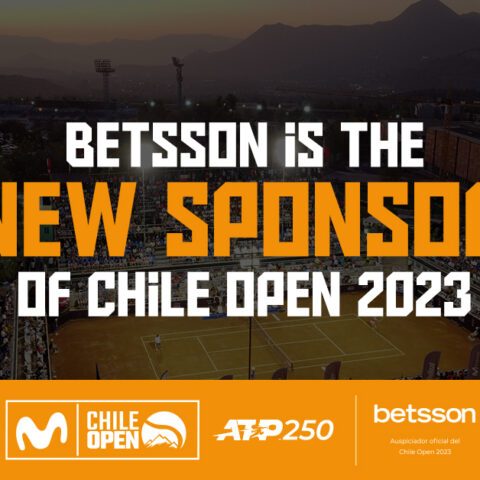 1200 x 628px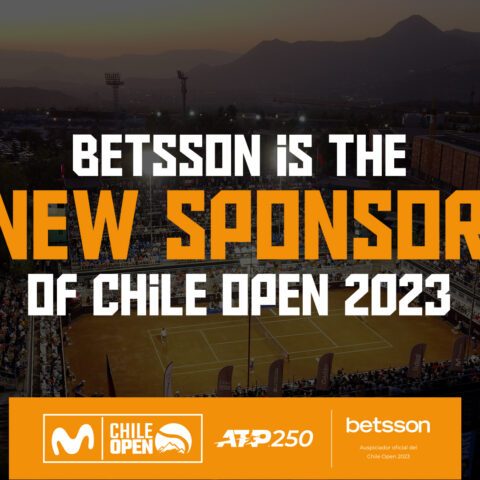 1920 x 1080px
---