Commercial
Italy
Marketing
News
StarCasinò Sport is the New Premium Partner of Palermo Football Club
The partnership was announced through a touching video focussing on the black-and-pink shirts of the Palermo supporters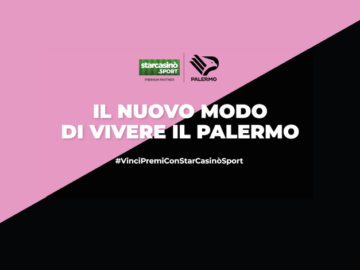 StarCasinò Sport is the new Premium Partner of Palermo F.C.: the new partnership was launched through a video highlighting the beauty of the Sicilian capital and the deep affection that ties fans to the City's team. After its success at last year's playoffs in Serie C, the club took its first steps in the second level division, aiming to immediately reach the top Italian premier competition and further ignite the enthusiasm of the people of Palermo. And StarCasinò Sport will be at the club's side in this adventure.
The videoclip kicks off featuring footage that reveals the splendour of Palermo with shots unveiling the most evocative views, the most characteristic monuments and the city's famous popular markets. Along the city's streets, the bond with the team is evident: the black-and-pink team colours mark every corner, from flags to team memorabilia. Palermo Calcio has a rich history playing in Serie A and has, over the years, attracted an enthusiastic fan base that rivals any big club in Italy or Europe. As the supporters at the Renzo Barbera stadium demonstrate at every home match: choirs, banners, t-shirts, scarves and coat of arms come together to form an enormous black-and-pink heart. This is where the video ends, at the heart of Palermo's supporters: the Northern End, where supporters unite in a single voice, driving their players to victory.
These are the building blocks on which the new partnership between Palermo F.C. and StarCasinò Sport is based, and the Infotainer's signature strategy for bringing fans even closer to their favourite team. Thanks to exclusive experiences, contests and prize competitions, black-and-pink supporters will have the chance to win merchandise and tickets to the stadium, under the banner of "The new way to experience Palermo F.C.".
"Palermo is synonymous with "Football", "Passion", "Heart" and "Enthusiasm". The bond between Palermo and its supporters is unique and can't be put into words. Our partnership aims at consolidating and making this bond even stronger, embracing all its aspects, through offering exclusive experiences. This is – in our vision – what the city deserves. We will do our utmost to do credit to this black-and-pink adventure." Stefano Tino, Managing Director of StarCasinò Sport, commented.
About StarCasinò Sport
StarCasinò Sport is the sports entertainment website, featuring exclusive content created by prime movers for sports enthusiasts. On http://starcasino.sport, the latest news, videos and curiosities about all the sports are available, plus the hottest gossip and grapevine news, with the chance to win exclusive experiences and rich prizes. StarCasinò Sport is Official Partner of AC Milan, Premium Partner of AS Rome, Top Partner of FC Turin, Official Infotainment Partner of US Sassuolo, Premium Partner of US Salernitana and Palermo F.C.