Commercial
Marketing
Southern Europe
Sportsbook
UD Ibiza promoted to LaLiga Smartbank for the first time in its history
Unión Deportiva Ibiza has been promoted to the Spanish Second Division after their victory at the Nuevo Vivero Stadium in Badajoz against UCAM Murcia (1-0) on 23rd May.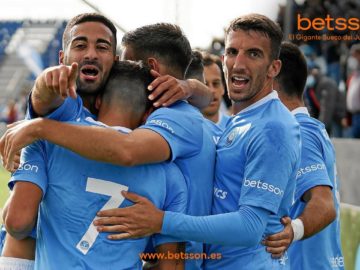 After the creation of this ambitious project in the summer of 2015, UD Ibiza sets a historic milestone, a record that no one has ever accomplished: being promoted to the professional football league in just six years.
During the match, Juan Carlos Carcedo's team dominated the game and had most of the chances. However, it was not until the 70th minute when the "sky-blues" managed to take the lead thanks to a goal from Ekain from the penalty spot.
Immediately after the goal, UCAM Murcia made an effort to score the goal that would force extra time in Badajoz, but the solid defensive structure of the Can Misses team did not give any kind of chance to the Murcian side.
With UCAM Murcia totally on the attack, the islanders found many gaps in the opposing defence and had the best chances to make it 2-0 and seal the game. In the end, the scoreboard remained unchanged and the match ended in victory for Unión Deportiva Ibiza.
For the first time in its history, the Ibizan team is promoted to the Silver Division, joining the winners of this year's promotion campaign: Burgos FC, Sociedad Deportiva Amorebieta, and Real Sociedad B.
Betsson, official sponsor of Unión Deportiva Ibiza, wanted to wholeheartedly support its favourite team on this emotional ride. For this reason, Betsson has been closely involved in the Ibizan team's whole journey towards achieving its great goal: the dream of promotion.
Betsson took four Ibiza fans to the semi-final against Real Madrid Castilla, and on this occasion, Betsson also wanted to share the latest news with all its followers through its social media (Instagram @Betsson_es and Twitter @Betsson_Spain) as well as the players' day-to-day life and the subsequent celebration of the promotion that marks the history of the coolest club in the world.
Because Betsson feels the colours of Unión Deportiva Ibiza.