Awards
Awards
Diversity
News
People
Four Wins at the Women in Gaming, Diversity Awards 2021
Diversity & Inclusion Award, Leader of the Year Award, Young Leader of the Year Award, and Star of the Future Award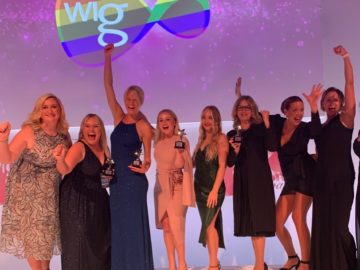 At yesterday evening's Women in Gaming, Diversity Awards Betsson Group won the Diversity & Inclusion Award and three Betssonites were awarded too! These awards, held at the brand new The Londoner Hotel at Leicester Square in London, honour excellence in promoting diversity and inclusion within the gaming industry. This was the 11th edition of these awards, which started off as 'Women in Gaming Awards' but eventually added the Diversity part to reflect the positive changes in the gaming industry.
Betsson Group won the leading 'Diversity & Inclusion Award' – an award that is awarded to a company that shows it actively encourages diversity and inclusion in its workforce. When analysing all the nominated companies, the judging panel looked at how the company defines diversity and inclusion and how it focuses on those communities such as LGBT, women and people from BME backgrounds and people of disability or minorities. The company/organization does not have to include all in its workforce but shows a strategy for inclusion and offers support and encouragement to all.
Besides celebrating companies, the Women in Gaming, Diversity Awards also rewards and recognises individuals for outstanding devotion to enhancing equality, diversity and inclusion.
Betsson's Chief HR Officer, Lena Nordin, won the coveted 'Leader of the Year' Award. This category was open to all female leaders working in the gaming industry (online or land-based). The judging panel looked for someone who has shown a proven ability to lead in a positive environment, help inspire and lead their team or company to internal or external successes. The Leader of the Year award recognises the leadership qualities they possess and exhibit on a daily basis.
Laura Peretta, Supplier Relations Manager at Betsson Group, won the 'Young Leader of the Year' Award. This category is for females under the age of 30 who has progressed rapidly through their career and demonstrated business value and innovation through their hard work and endeavor.
Camilla Engeling, Employee Experience Specialist at Betsson Group, won the 'Star of the Future' Award. This award recognises a woman whose energy, ambition and generosity of spirit represent the positive future of the gambling industry.