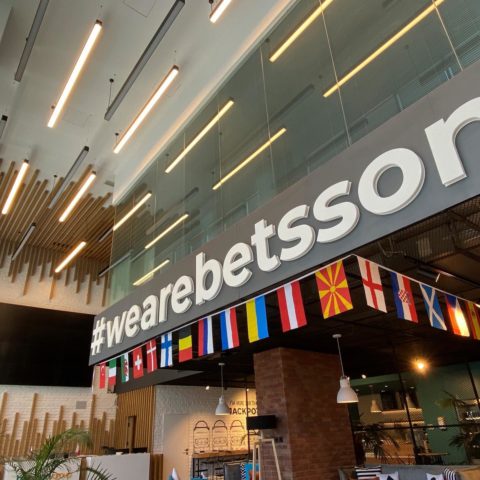 Betsson Experience Centre
The innovative workspace at Betsson Experience is a combination of design, comfort and functionality. It took over six months to finish but was well worth the wait. The result was a truly unique office that inspires everyone that walks in. The eighth floor of our Experience Centre is where you come to relax. With two sunny balconies, one with a fantastic sea view, eating areas, PlayStation consoles, a foosball and pool table, board games and table tennis it's easy to have a good time. The hardest time you will ever have on level 8 is to decide what activity to choose!
As a part of our health initiatives, we also offer weekly yoga sessions to all Betssonites. The morning yoga is tailor-made for beginners and is a fantastic way of starting the day! In the Experience Centre, you can enjoy a comprehensive breakfast buffet every Wednesday with new surprises on the menu each week and after work with drinks and snacks every Friday, both perfect for networking. Free parking and convenient bus stops make your trip to and from work nice and smooth.
We have kitchens on each floor with all mod-cons, fresh filtered coffee and tea, free fresh fruit and vending machines. In addition, we have a cafe on the entrance floor where you can buy all types of coffee, smoothies, croissants, salads, and sandwiches.